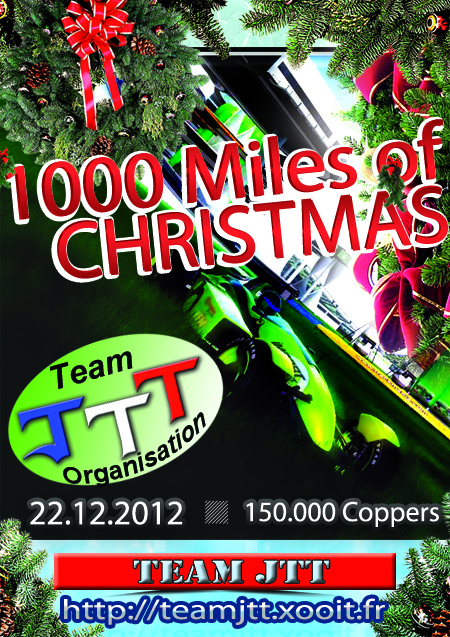 1000 miles of Christmas
Toute nouvelle course d'endurance qui se déroulera le samedi 22 Décembre à partir de 14 heures. (Essais le vendredi 21 Décembre à partir de 21 heures)
Equipe de quatre pilotes qui se relayeront pour cette course de 200 tours sur une map de 2 minutes 44 secondes environ (6000 CP). Il pourra y avoir plusieurs équipes de la même team et des alliances.
Chaque membre d'équipe devra effectuer un minimum de 1260 CP (environ 1 heure 45 minutes de course).Pénalité le cas échéant.
La durée de la course est évaluée entre 8 et 9 heures et elle se déroulera sur une map dirt roulante.
Récompense de 150000 coppers répartis sur les dix premières équipes comme suit :
1er 45000 coppers
2ème 35000 coppers
3ème 22000 coppers
4ème 15000 coppers
5ème 8000 coppers
6ème 7000 coppers
7ème 6000 coppers
8ème 5000 coppers
9ème 4000 coppers
10ème 3000 coppers
Attention !!! Toute tricherie entraînera l'exclusion définitive de toute l'équipe engagée.
Inscriptions de votre team:
http://teamjtt.xooit.fr/f72-Inscriptions.htm
Notre forum :
http://teamjtt.xooit.fr/index.php
1000 miles of Christmas
Any new endurance race to be held saturday, December 22 at 2:00 p.m. (Trials friday, December 21 at 9:00 p.m.)
Four drivers by team who take turns to race 200 laps on a map of 2 minutes 44 seconds (6000 CP). There may be several teams from the same team and alliances.
Each team member must complete a minimum of 1260 CP (about 1 hour 45 minutes of racing).Penalty if necessary.
The running time is estimated at between 8 and 9 am and will run on a rolling dirt map.
Reward of coppers 150,000 distributed the first ten teams as follows:
Position Prize
first 45000 coppers
2nd 35000 coppers
3rd 22000 coppers
4th 15000 coppers
5th 8000 coppers
6th 7000 coppers
7th 6000 coppers
8th 5000 coppers
9th 4000 coppers
10th 3000 coppers
Warning! Any cheating will result in the permanent exclusion of the whole team involved.
Inscriptions of your team:
http://teamjtt.xooit.fr/f72-Inscriptions.htm
Our forum :
http://teamjtt.xooit.fr/index.php